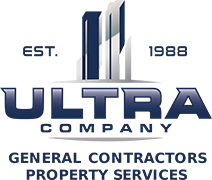 MAINTAINING YOUR PROPERTY INSIDE & OUT- ULTRA COMPANY'S PROPERTY SERVICES GROUP
ULTRA Company's Property Services Group is a new way of contracting, re-imagined from the ground up after 30 years in the industry. You get an in-house team of highly-skilled professionals, providing uncompromising maintenance and repairs. Each project is no-nonsense, no excuses and all results – we get the job done right the first time, period.
Some of our Partners include





Project excellence starts here. Reach out to see how we can help. Contact us today to get started!